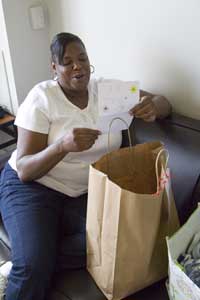 Signing her lease at Piquette Square, Melissa Hill-Pearson felt it also marked a new lease on life.
Melissa is an American veteran who lost her way but never lost sight of her American dream.
"I want to work again and earn a good living," Melissa, 54, said. "Then I want to buy a few acres in a quiet place and build a nice little home with a white picket fence."
As she entered her Piquette Square apartment for the first time, Melissa hurried excitingly from room to room in her new one-bedroom unit. "This is so nice," she said repeatedly and breathlessly.
Melissa was among the first set of veterans to move into Piquette Square on June 6. Piquette provides long-term supportive housing for homeless veterans to enable them to reintegrate into the community. The 150-unit facility is located near the New Center area. Southwest Solutions developed the $23 million project and owns and manages it.
John Van Camp, president of Southwest Solutions, was on hand as the first 40 tenants arrived at Piquette.
"No one should be homeless in America, I strongly feel," John said. "But to see those who've served our country honorably and yet have no place to call home dishonors us all, and we must come together as a community and solve this. To make Piquette Square a reality took the concerted effort of so many organizations and individuals dedicated to this amazing project. Witnessing the reactions of the veterans moving in, the effort was surely worth it."
After surveying her new apartment, Melissa sat on her living room sofa and opened a gift bag of toiletries. Inside the bag was a note handwritten by a local Girl Scout.
The note read, "Thank you for your service. Welcome to your new home."
Melissa smiled and said, "I was once a Girl Scout myself." The note will become a memento.
The apartments at Piquette are furnished, but kitchen, bedroom and bathroom items were needed for each unit. To acquire these items, groups, organizations and businesses organized "showers" or festive donation events. Funds raised were used to purchase room items on the Piquette Wish List.
"I really wanted the residents to feel special, the same way we support our families and friends when they have big changes in their lives," said Peggy O'Neill, who was instrumental in putting together the Wish List and the showers. "Indeed, the residents at Piquette are part of our extended family because of their service to our country."