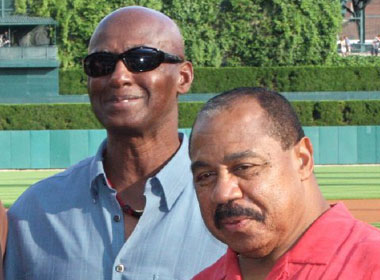 All know that there was a time in this country when the phrase "equal opportunity" was not even in an American dictionary. No matter, there were always men and women who through guile, craftiness, astuteness and steadfast determination fought through those rock solid barriers in the quest for inclusion in ever facet of life.
In particular, on the baseball field in 1871, formal bans of Black players existed only in minor league baseball, but soon after the American Association and the National League both unofficially joined in and banned African-American players, making the adoption of racism in baseball complete. This unwritten rule stayed in effect until Jackie Robinson played for the Montreal Royals in 1946.
It took most of the American League and the Tigers another 15 years or so before they unleashed the leashed of racism. The first Black to play for the Tigers (in 1959) was Larry Doby, who was the first Black to play in the American League in 1947 for the Cleveland Indians.
Recently during the Tigers' eighth annual Negro Leagues Weekend, the franchise presented former Tigers second baseman Jake Wood with the second annual Detroit Tigers African American Legacy Award during an on-field, pregame ceremony.
Wood was the first African American to make his way through the Tigers' farm system all the way to the "Big Leagues." He said he does not feel so much like a pioneer, more like a man who was blessed and lucky.
"The only thing I felt when I came up was grateful," Wood said, "because it was more than 10 years after Jackie and Larry had integrated baseball in 1947. I do not see myself as a pioneer. Because of what they had done and endured, I benefited. I never gave it a thought that I was the first African American to come through the Tigers system and make it to the Big Leagues."
Wood, 73 and looking great, said the best thing that happened to him was getting an opportunity. He noted that while in the minor leagues ­ the Tigers signed him in 1957 as a 20-year-old from Delaware State University. ­ He saw many players who, for whatever reason, didn't get an opportunity. He did not say, but most know the reason was the league only had eight teams in the American League and the National League and there was an unwritten rule that a team would only field a certain number of Black players.
"I remember guys who were in Triple-A for six or seven years," Wood recalled, "and some were better players than I was, it was just that their teams already had a certain number of Blacks and there was no way they were going to move up. Where were they going?
"So to have the opportunity like I did, the door was open. It's not great ability, but opportunity. I believe in my heart when people are given the opportunity, you don't know what somebody may do. I believe you can achieve anything, given the chance. And that's what happened to me, being in the position at that particular time, to be a part of a Major League baseball team.
"In 1960 the Tigers traded their second baseman and I had done well in the minor leagues so the position was open. When I came up in 1961 there were no Black players on the team, but that year we had three: Bubba Morton, Bill Bruton and myself."
When Wood took the field in 1961, he became the first African- American player to advance through the Tigers minor league system and play in the major leagues. He played with the Tigers from 1961 to 1967 and led the American League with 14 triples during his rookie years.
"Coming back here has really been a treat for me," Wood said. "I'm humbled at this advanced age to see that people recognize the small contribution I made. What really brought me joy was seeing what players like Willie (Horton) and Gates (Brown) accomplished after me and how good they played."
Wood's contribution was one of many throughout America that were building blocks for the foundation needed to bring about inclusion and knock out exclusion.
Leland Stein can be reached at lelstein3@aol.com.