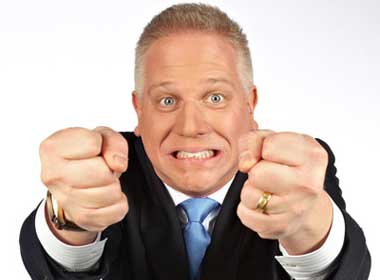 Right wing talk show host Glenn Beck and his Tea Party disciples (who had never seen anything wrong with government, not even the George W. Bush administration, until America elected its first Black President Barack Obama) plan a "Restoring Honor" rally at the Lincoln Memorial in Washington, DC, Aug. 28.
It is not a mistake that Beck and his team carefully chose this date because it commemorates exactly the 47th anniversary of the March on Washington where Dr. Martin Luther King Jr. gave the historic "I Have a Dream" speech, at the Lincoln Memorial.
It is almost laughable, yet tragic, that Beck would choose this date to basically desecrate King's legacy with divisive ideas that are out of sync with the vision of the Civil Rights Movement. Lest we forget, Beck called King "a radical socialist" and even questioned the validity of the annual King holiday. He called President Obama "a racist with a deep-seated hatred for White people."
There must be a response from honest men and women who understand that moving our communities forward cannot be based on racist and divisive tendencies.
Preaching superiority of one race over another has not worked in the past and definitely will not work in 2010. When Beck and his team say they want "their" country back, there is a subtle message.
They are basically saying they want to return to the days when diversity was not an option, when women could not have a say in government or corporate boardrooms and when Blacks were confined to the back door. We cannot keep silent and allow revisionist historians to rewrite the history books with their tainted intellect.
Beck is challenging guardians and followers of the King legacy to an ideological battle. By taking his march to the Lincoln Memorial on the anniversary of King's "I Have a Dream Speech" speech, Beck is taking the ideological fight in a huge and symbolic way to the backyard of those who fought to push America further, to the point of democracy where there is a Black president and women serving as leaders.
We may hear from his group on Aug. 28 that King was on the same philosophical wavelength as them. Even though that would amount to a gross abomination of the ideas of oneness that King espoused, some are inclined to believe Beck in the era of renewed demagoguery.
To counter Beck, civil rights leader Rev. Al Sharpton is organizing a march at Dunbar High School in Washington, D.C. Sharpton has been rallying people across the nation to stand up and fight back. But it is clear that Beck should not win the public relations battle because of the symbolism and significance of having such an event at the Lincoln Memorial. Sharpton told a gathering of Black journalists in New York last week that when he went to book the Lincoln Memorial for Aug, 28, he was informed that it had already been taken by Beck.
The lesson there is that those who are on the front lines of the battle for human and civil rights must have their "A" game tight. It is clear that Beck is thinking way ahead because engaging opponents with his archaic ideas in a public relations battle keeps his ratings high and ensures his fat check from his bosses at Fox News keep coming.
The Kerner Commission, named after its late chairman, Illinois Gov. Otto Kerner, set up in 1968 by former President Lyndon Johnson one year after the 1967 riot in Detroit, said there are two Americas, one rich and one poor.
That was the conclusion of the report which unapologetically listed racism and economic inequality as culprits in hindering urban progress.
President Johnson had expected the report to say otherwise and termed the riots to be the work of subversive or outside forces.
Instead, the Kerner report became America's foremost comprehensive document that looks at racial and other issues of inequality.
About Post Author