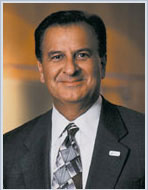 A fearless friend and optimistic opponent, Detroit Regional Chamber President and CEO Dick Blouse faced a daunting list of challenges upon his arrival nearly sixteen years ago. He never considered losing or leaving and there's something good to say about a man like that.
Dick Blouse believed in diversity when diversity wasn't' a popular or proven goal. He guaranteed bottom line results with aggressive recruitment of small and minority business members. And he delivered, making the Detroit Chamber the largest metropolitan chamber of commerce in the United States, with 20,000 members.
He wasn't afraid of walking around the block, around the state or across the pond to knock on what some considered closed foreign doors. With his creation of the Detroit Regional Economic Partnership, Blouse created new opportunities for hundreds of companies either to locate or expand in the Detroit region, further diversifying our economy.
He brought diversity to the Chamber board, which now resembles a meeting of the United Nations.
Dick's ability to spark meaningful conversations among adversaries brought divergent business, community and government interests together for the common good of all.
His vision to leverage our international border crossings, waterways, highways and airports lead to the formation of TranslinkeD, an inland port, and is expected to deliver dividends both now and in the future.
He recognized the Chronicle as a crucial voice and respected media partner and was an ardent champion of our heralded 'Mackinac' edition.
Margaret Mead once stated that, never doubt that a small group of thoughtful citizens can change the world. Indeed, it is the only thing that ever has.
Thank you Dick Blouse. You've forever changed us. We have become a stronger region, a more cooperative community and a healthier business incubator as a result of your many efforts.
You have made a lasting mark that cannot be erased. Bravo!