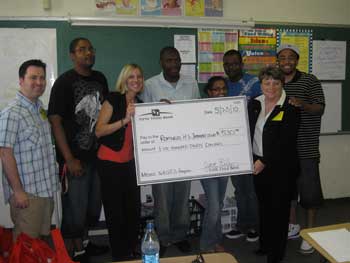 Last fall, an initiative led by Fifth Third Bank and the Detroit Red Wings encouraged Southeast Michigan high school students to volunteer in the community. The S.H.O.T.S. program (Students Helping Others Through Service) is an initiative designed to encourage high school students to volunteer their time and efforts while creating a competition among the student groups with monthly and overall winners taking home several great prizes.
Individual student groups of four to six, or their teachers logged onto DetroitRedWings.com to register their team and kept the judges updated on their progress. The selection committee included several local celebrities such as local Hockey Town favorite Steve Yzerman, Steve Grunwald from 99.5 WYCD Detroit's Best Country, Pat Caputo from 97.1 and the Oakland Press, Dr. Darrius from 97.9 WJLB, Spike from the Mojo in the Morning Show on Channel 95.5, and Trevor Thompson from FOX Sports Detroit.
Each month a school was selected. Monthly winners were Romulus High School's Interact Club and Waterford Mott's National Honor Society and Riverview High School EGAD.
The grand prize winner was Riverview High School EGAD. Each member of this club was honored on the ice at a Red Wings game in March, received a laptop computer, a pizza lunch at the school and a goody bag filled with great Fifth Third Bank and Red Wings gear. Fifth Third Bank also presented a check for $530 to the school for seed money for their 2010-2011 service project. In addition, each member of the club received a $50 gift card.
Riverview's "Everybody Gives A Darn " is a community service oriented group, created to benefit active military personnel units with a Romulus alumnus serving among them overseas. Through fundraising activities such as bowling nights, restaurant promotions and casual clothes days, they were able to raise money to send over 20 large boxes filled with personal hygiene products, recreational materials and non-perishable food to the troops.
The school also sold paper stars to honor veterans and current soldiers. The stars are on display in the school's lobby. Congratulations to the EGAD team: Alysha Rec, Audra Rec, Emily Goddard, Ashley Cox, Cody Carpenter and Jessica Cichowlas.
The Romulus Interact Club chose to volunteer at Corey Elementary School's Game Night. The Interact students arrived early to set up the board games in the cafeteria and prepared to make the games meaningful for the elementary students for the two-hour time slot. The focus was to demonstrate that learning is fun and by working together to provide a powerful team building experience for the young people. A positive example was set in that students of all ages had fun while focusing on learning and working cooperatively and the event provided a unique experience that linked service, learning, education, social skills and fun.
The Waterford Mott National Honor Society Independent Studies' biggest service project was the "Stuff the Bus" food drive. A Waterford school bus was set up outside of the local Kroger store and within one afternoon collected a bus full of food donations for the Grace Centers of Hope. Other events held included an annual ping pong and Mario Kart tournament, with proceeds going to the Mott Children's Hospital. The most recent project included selling donuts and collecting spare change during lunches for the Red Cross, to benefit the victims of the earthquakes in Haiti. Over $745 was raised in this effort.
"This was a great opportunity for high school kids to make a positive impact in the community and have fun in a spirited competition," stated Steve Yzerman. "Whether you volunteer at a local soup kitchen or help clean up a street or park, the students realized there are dozens of ways for everyone to get involved and make our neighborhoods better for everyone."
"The S.H.O.T.S. program encourages a culture of community service in our next generation, which has a far greater reach than if the bank had just performed the activity ourselves," said Jack Riley, senior vice president, marketing director at Fifth Third. "We were really pleased to work with our celebrity judges and the Red Wings organization in such a worthwhile program."
The S.H.O.T.S Program will begin again in September 2010.