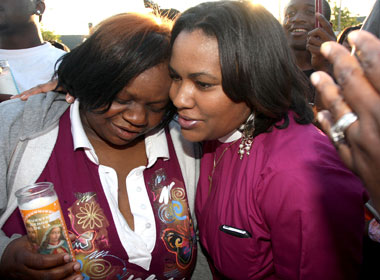 I attended the Mackinac Policy Conference last week, not with excitement but with caution, knowing that this annual political ritual on Mackinac Island more often than not creates a political stalemate on the most important issues rather than working cohesively on solutions.
For that reason, the gubernatorial forum did not offer much with regard to how Detroit and the rest of Michigan can get off the Titanic.
Thus I have since decided I would not waste any ink on former House Speaker Newt Gingrich, who called for Detroit to become a federal tax free zone. What Gingrich did not explain is what he did for Detroit when he was in a position to during his tenure in Congress.
I found it amazing and ridiculous at the same time that Gingrich, whose new book, "Saving America," compares President Obama's administration to Nazi Germany under Adolph Hitler and Russia under Stalin, will assume a medical doctor role, offering prescriptions to the state and its largest city.
Yet one thing I walked away with from Mackinac Island was a commitment revealed at a reception hosted by the Detroit Branch NAACP to tackle violent crime in Detroit.
It is beneficial to talk about the critical need for a productive, vibrant, safe environment, one conducive to businesses thriving. Focusing on business policies without addressing crime amounts to building castles in the sky.
Some of us have challenged leaders and the institution of local government to step up and take charge. Rev. Wendell Anthony, president of the Detroit Branch NAACP, agrees that drastic situations, such as the recent, deplorable wave of killings in Detroit, demand drastic action and workable solutions.
To that effect, Anthony pulled together parents, community activists, heads of local groups and institutions, churches, experts from the academy to interface with some of our leading law enforcement agencies, including the Michigan State Police, U.S. Marshall's Office, the Detroit FBI Office, U.S. Attorney's Office, Wayne County Sheriff Department and the Detroit Police Department in seeking solutions.
This cross pollination of ideas to be held at Martin Luther King High School June 14 from 5:30 to 8 p.m. is designed to put people and resources together.
"It is not designed to be just another meeting," Anthony said. "It is designed to put people together with programs and opportunities for change that are currently working in communities around our city. There is a role for everyone to play in helping resolve these problems."
Themed "Community Policing and Violence Prevention: Building Bridges that Work," this community-wide event is badly needed and long overdue.
"There must be a continuous discussion and implementation of programs that include jobs, recreation and education for all those that are involved," Anthony said. "There must be a different culture and understanding nurtured in order to engage in mutual respect and a change inside our community."
Anthony noted that the rally is not a witch-hunt and would not be the place to play the blame game.
"We are very much aware of the issues involved on both sides of the discussion of law enforcement and respect for the community," he said. "This open discussion is designed to develop and offer solutions to the problems that are the facing the city. We believe that Detroit is better than the violence and the pain that we are seeing erupting daily from the streets of Detroit."
Detroit has indeed experienced a lot of pain as one of the most misunderstood urban centers in the nation. Still, there is great potential, and there are those who believe the beleaguered city can rise again, much like the phoenix of classical mythology. But it will take a concerted effort by those who care.
Several leaders participating in the Building Bridges forum expressed optimism.
"I have the highest expectation and unwavering confidence that this upcoming event will stir up in our community the social capital, social discipline and social and personal responsibility needed to build a culture of healing and peace," said Alice Thompson, CEO, Black Family Development.
The most recent shootings have put the city on the national map as one of the most violent in the nation, a hurtful reminder of when Detroit was dubbed the Murder Capital of the World.
But time wasted debating how the city is perceived nationally is time that could be spent more productively, looking for solutions to address the problems that hinder us.
"We are at a unique time in the history of this city. It will take everyone working together — law enforcement, police and community leaders," said Andrew Arena, Detroit FBI director.
Detroit cannot be a comeback city if the streets are not safe, if our senior citizens feel imprisoned in their own homes, if our young people continue to be involved in murderous confrontations, etc. Our level of tolerance towards violence is part of the problem. It sends the wrong message. To put it another way, we should be outraged. We should be as upset as actor Peter Finch was in the celebrated film "Network" when he screamed, "I'm mad as hell and I won't take it anymore!"
I'd rather be a free man than to be mentally enslaved by the psychology of violence – whether it is triggered by the harsh economy or simply a way of life for some individuals – that has created terrible fear among some who have to carefully choose where they go and at what times they go out.
That is why the gathering next Monday at King High is critical. As Rev. Anthony said, there is something for everyone to do.
"Detroit Coalition Against Police Brutality is pleased to join with the Detroit Branch NAACP in seeking a vision which is needed in our community," said spokesman Ron Scott. "For years we have sought to end police brutality and we continue with that struggle."
We have to take back the streets of Detroit. If we have inclination, the desire and the wherewithal to expound on and protest everything that has gone wrong in Detroit, we should have the same zest to sit at the table and offer concrete, realistic solutions.
I've always wondered why after so many slayings of children and adults, we still have a conspicuous silence from some of those in charge of institutions that could lend resources to help alleviate the problems. The silence is almost as sinister as the crimes that are being committed.
The city is not dead. It is alive and can become a model for other struggling cities. However, for that to happen every hand must be on deck, and the Detroit Branch NAACP is leading the charge.
Detroit's future is in our hands.
To register for the event, call (313) 871-2087 or visit www.detroitnaacp.org.
Watch senior editor Bankole Thompson's weekly show, "Center Stage," on WADL TV 38, Saturdays at 1 p.m. This Saturday, June 12, will feature a roundtable with Dr. Nicole Metcalfe, Dr. Herbert Smitherman and Republican Paul Welday debating the impact of the historic health care legislation in Southeast Michigan. E-mail bthompson@michronicle.com.
About Post Author