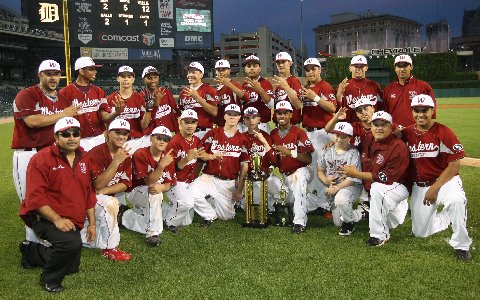 When the discourse moves to Detroit Public School League (PSL) baseball, the talk invariably goes right to Western International High School.
The southwestern enclave has elevated itself as the premier program among Detroit Public Schools. Coaches, fans and ex-players talked together after Western (20-4-1) slammed yet another PSL Baseball title with a convincing 12-2 victory over Martin Luther King High (16-9-1). All asked, when was the last time a PSL team won three consecutive titles? PSL Baseball watchers could not come up with another team that has done what Western has.
The PSL Baseball title contest was the first night game held at Comerica Park. The welcomed time change allowed family and special friends to get off work and scurry on down to Woodward to witness their sons making PSL baseball history.
Unlike the PSL championship football games, which at one point were held at Ford Field, the same facility that has hosted a Super Bowl, the baseball title contest is still played on the Tigers' home field. Football for the past three seasons for some reason has been moved to Renaissance High.
"It does not get any better than this," said Western coach Mike Vasquez. "Playing under the lights in a big league park with family and friends is just wonderful."
Western went down 2-0 to King and it appeared everyone was in for a tight contest, but the Cowboys came back in the bottom of the third inning and scored three runs, helped by four King errors, and never looked back.
Coach Vasquez said after the contest that winning never gets old and he was as excited as when they won their first title in three years ago.
"That first title in 2008 was very special," he recalled. "As you remember, Coach Angel Garcia had passed and the kids dedicated the season to his memory. Then this year coach (William) Goldsmith passed and the kids again wanted to do something special in his memory.
"And they did produce a special victory, especially getting down 2-0 and coming back like they did. Then also having a freshman (Hector Gutierrez) pitch the game of his life in Comerica Park is just outstanding. He has shown all year that he can pitch in big games and is very poised for such a young player."
Gutierrez (6-0) tossed a two hitter and struck out nine Gutierrez over five innings.
"I was nervous all day in school wanting to get this game on," he said. "When they went up 2-0 in the third, I was not nervous because my teammates came over to me and said, 'Do not worry, we will get the runs back.' And that is exactly what they did."
He got ample help from senior catcher Nolan Wilson who led Western by going 2-for-2 with three RBIs, and Joey Alcala had two hits. Juniors Brandon Austin and Todd Phelps each had two hits and scored two runs.
"Man, this feels great," Wilson said. "This is my third title and it is an excellent way to end my career at Western."
"I transferred in here from Southeastern because I wanted to win a championship," Austin said. "I'll be back next year looking for another title."
King Coach Norm Taylor was disappointed with how the game changed so drastically on him.
"What can I say? That is a very good team, but we can play with them," he said. We just did not make the plays when we needed them. What makes it so bad is I've seen them do better and I know they can play better."
Added King centerfielder Mark Brown: "This is not how I dreamed it. Last night I saw us winning, then after we took that 2-0 lead I felt good about our chances. But things kind of fell apart in the bottom of the third inning and we never recovered."
Detroit Tigers legend Willie Horton and Robert Bobb, DPS emergency financial manager, both threw out the first pitch to Alvin L. Ward, first-year administrator of athletics for the PSL.
Leland Stein can be reached at lelstein3@aol.com.