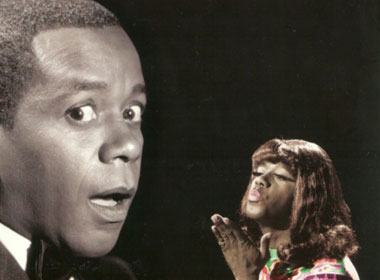 As hard as it might be for most young people today to believe, there was a time when seeing Black people on television was far from common. We're talking 1950s and early 1960s.
Each time an African American was on TV — actually we were "colored" and Negroes then — it was an event. I remember a singer by the name of Janelle Hawkins appearing on "American Bandstand." I yelled to my mother and sister, "Come see the colored girl!" (Her mild hit, by the way, was "Moments to Remember.
I know that sounds incredibly corny — and I wouldn't have said "the colored girl" had Hawkins been a well known singer — but you have to envision this in the context of the times. This was 1962. The Civil Rights Movement hadn't even kicked into high gear yet. Today, of course, we think nothing of a Black people not only appearing on television, but having their own shows as well.

IN ADDITION to being one of the greatest singers of all time — the ultimate crooner — Nat "King" Cole made history in 1956 when he became the first Black person to have their own network TV show, a 15-minute music/variety program titled "The Nat 'King' Cole Show."
Not surprisingly, racism reared its ugly head. Despite his superstar status, and guest appearances by such supportive big names as Ella Fitzgerald, Sammy Davis Jr., Peggy Lee, Tony Bennett, Eartha Kitt and Mel Torme, Cole's show was not able to secure advertising from national sponsors.
"The Nat 'King' Cole Show" aired from November of 1956 to December of 1957. A nerve-racking but historic year.
Cole laid it right on the line: "Madison Avenue is afraid of the dark."

NO ONE has had as many shows as Bill Cosby. The most famous, of course, is "The Cosby Show" that aired on NBC — with phenomenal ratings — from September of 1984 to April of 1992.
The upper middle class Huxtable family was embraced throughout the United States. The show was funny, educational when it needed to be, and always warm.
Also, there was great chemistry among cast members, including Phylicia Rashãd as Clair, wife of Heathcliff Huxtable, and the "Cosby kids," portrayed by Lisa Bonet, Malcolm-Jamal Warner, Tempestt Bledsoe, Keshia Knight Pulliam, Sabrina LeBeauf and, later, Raven-Symoné.
But Cosby had four other shows, "The Bill Cosby Show" (a sitcom), "The New Bill Cosby Show" (variety format), "Cosby" (which came after "The Cosby Show") and, of course, the animated "Fat Albert and the Cosby Kids."
OPRAH WINFREY, as the whole world knows, is the undisputed queen of television talk shows. "Megastar" is perhaps the only word that begins to describe Winfrey, whose show began airing nationally in the fall of 1986 and whose influence is unprecedented.
Interestingly, the I'm-going-to-be-somebody flame was ignited when Oprah was a little girl in Chicago, watching the Supremes (Diana Ross, Mary Wilson and Florence Ballard) on the Ed Sullivan show.
Speaking of Black women, the late 1960s and early 1970s was a fruitful period because several, including Barbara McNair, Leslie Uggams and Della Reese, hosted their own programs.
Today, of course, there is the in-your-face Wendy Williams, host of a daily talk show, who is completely unlike any of the talk show ladies who came before her, including Rolanda Watts, Bertice Berry and Iyanla Van Zant. With a mountain of cascading hair, Williams, like the song says, is "easy to remember, so hard to forget."
ARSENIO HALL brought a whole a new style to late-night TV in 1989 and was, in fact, the first African American to host their own late-night talk show.
"The Arsenio Hall Show" had a distinctively hip, urban flavor, although it was not aimed specifically at the Black community. People will never forget the "pumping fists" and "barking" of the Hall audience.
"Arsenio" became so popular that he was even able to land presidential candidate Bill Clinton as a guest — and the future president played saxophone, much to the surprise and delight of viewers.
"The Arsenio Hall Show" ran its course, ending in 1994, unable to sustain like "The Tonight Show" (with Johnny Carson, then Jay Leno) and "The Late Show with David Letterman."
Magic Johnson and Keenen Ivory Wayans were unsuccessful as late-night talk show hosts.
However, Wayans had already given us the incredible "In Living Color," which made us laugh so uproariously and launched so many careers, including those of Jamie Foxx, Jim Carrey, Damon Wayans, Kim Coles, Tommy Davidson and Detroit's own David Alan Grier.
"THE FLIP WILSON SHOW," that offered comedy and music, created a sensation from 1970 to 1974, so much so that it received 11 Emmy nominations — two of which it won — and landed Wilson on the cover of Time magazine, heralding him as "TV's first black superstar."
Wilson's unforgettable characters included the sassy Geraldine Jones and showboating Rev. Leroy Jenkins. The classic catch phrases Wilson introduced include "What you see is what you get" and "The devil made me do it."
In sitcom land, Martin Lawrence scored big with "Martin" that made an impact from 1992 to 1997. Lawrence didn't mind going over the top for laughs.
WILL SMITH had a sitcom built around his role as one-half of the comical rap duo D.J. Jazzy Jeff & the Fresh Prince, specifically the "Parents Just Don't Understand" video.
"The Fresh Prince of Bel-Air" was a major hit in its original run from 1990 to 1996 and is still popular in syndication. But no one imagined Will Smith becoming, as a serious actor, one of the biggest names in Hollywood.
Although the long-running and highly influential "Soul Train" does not bare his name, creator/host Don Cornelius would have to be included as among those with a show of their own.
"Soul Train" aired from 1971 to 2006, in the process introducing an amazing array of new stars, dance moves and fashions.
There are so many others who merit inclusion in a story such as this, although space restrictions make elaborating on them all impossible. However, we would be remiss to not mention talk show master Tavis Smiley, court TV superstar Greg Mathis, sitcom stars such as Diahann Carroll, Bernie Mac, Redd Foxx, Marlon and Shawn Wayans, Marla Gibbs, Esther Rolle and Charles S. Dutton, among others.