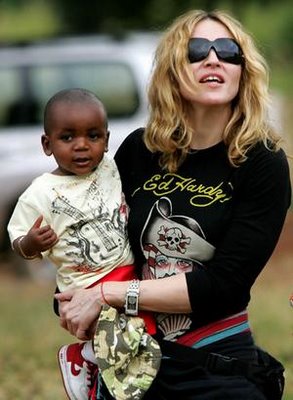 Yours truly is not one of those people who make a big deal out of racial issues. Among other things, it is a tired subject. One day, hopefully, people will realize that race takes a back seat to being a human being, a child of God.
That said, I can't help feeling a "twinge" of discomfort whenever I hear about a White celebrity adopting a Black baby, such as Sandra Bullock, Madonna and Tom Cruise.
On the one hand, they can give the child a better life, particularly if the child is from an impoverished nation. And I am sure the hearts of people like Brad Pitt and Angelina Jolie — two of my favorite people — are in the right place.
What bothers me is that if Black celebrities, no matter how wealthy, wanted to adopt White children from a poor country, or elsewhere, it would be a whole different situation. They would encounter all kinds of red tape and barriers.
Then too, I hope adopting Black babies has not become a "trendy" thing to do.
KELLY ROWLAND, who has two successful solo albums to her credit, has signed with Universal Motown and says the company "has really embraced me and set me up to succeed." The former member of Destiny's Child goes into the studio soon.
It is interesting that Rowland is with Universal Motown — even though Motown is just a label now, not a company — because in 2004 she sang with former Supremes Mary Wilson and Cindy Birdsong on the "Motown 45" television special.
Talk about inaccuracy! Entertainment Weekly magazine recently described actor Boris Kodjoe as a "talented newcomer." That's odd since he has been doing television (including the "Soul Food" miniseries) and movies since 1998.
David Humphries (aka "Hump the Grinder"), creator of the extravagant "Hair Wars" fashion shows, was asked why his shows start five minutes after the hour. (Example: 6:05 p.m.) The answer is simple. "To get some attention," he said.
THE RIGHT couple certainly won on this season's edition of the massively popular "Dancing With the Stars." Singer/dancer Nicole Scherzinger and her partner, show regular Derek Hough, were incredible and always fun to watch. Also, Hough consistently came up with interesting concepts and fascinating choreography.
Mary J. Blige has obviously learned the value of having several money-generating projects going. The latest is a line of "fashion forward" sunglasses that will be made available soon. The name is Melodies.
Winnie Mandela is not pleased about a movie being made on her life (starring Jennifer Hudson) and has made legal threats. But she is not likely to succeed because permission is not needed to write a book, do a movie, etc. on a celebrity. It's just that it will be "unauthorized."
Acerbic former "American Idol" judge Simon Cowell was among those enchanted by Fantasia's performance of "Summertime" during season three. "For three minutes I lost myself," he said, during an Oprah Winfrey interview during which he showed a much softer side.
IN SOME ways, Kwame Kilpatrick's incredible rise and equally incredible fall belongs under the "Entertainment" banner.
It is certainly a sad day when a former mayor ends up being sentenced to federal prison, particularly when none of the things that led up to it had to happen.
If Kilpatrick had been honest and not allowed his ego to get so far out of control, he could have followed through as a "rising star." But instead, he gave in to his worst instincts (greed, revenge, lust for power, seeing no need to tell the truth, etc.).
I was never a supporter of Kilpatrick, was displeased when he won, stunned and disappointed when he was re-elected, and infuriated when he got officers Gary Brown and Harold Nelthrope fired to halt their (justified) investigation and save his own skin.
Moreover, there was always just something that didn't "feel right" about Kwame Kilpatrick, and my gut feelings are never wrong.
I will say, though, that he was cordial both times that we had one-on-one contact. (On the second occasion it was he who initiated the pleasant discourse.)
Still, "that feeling" would not go away.
BETCHA DIDN'T KNOW…that the Everly Brothers recorded the original version of "Let It Be Me," although today it is most closely associated with Betty Everett and Jerry Butler whose version was a No. 1 R&B hit in 1964 and a Top 10 Pop hit.
MEMORIES: "We're a Winner" (the Impressions), "(If Loving You Is Wrong) I Don't Want To Be Right" (Luther Ingram), "Ain't Nobody Like You" (Miki Howard), "Since I Fell For You" (Lenny Welch), "If Only You Knew" (Patti LaBelle), "What a Fool Believes" (the Doobie Brothers), "Show Me" (Glenn Jones), "The Boss" (Diana Ross), "Ladies Night" (Kool & the Gang), "Tell Mama" (Etta James).
BLESSINGS to DiAngelo Johnson, Millie Scott, Ron Stevenson, Galen Pauling, Earline Franklin, Ron Scott, Georgette Jones, Victor Holsey, Ali Majid and Michele Jackson.
Let the music play!
(Steve Holsey can be reached at Svh517@aol.com and P.O. Box 02843, Detroit, MI 48202.)