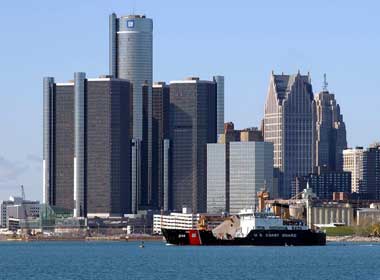 When a reporter asked Janet Jackson how she had survived the (overblown) so-called "wardrobe malfunction" and its ugly aftermath, she calmly required, "You hold your head up and keep moving. It's going to be okay."
That is basically the attitude people who live in Detroit have to maintain because the city gets beaten up so often, most recently by "Dateline NBC."
The city originally best known for automobiles and music has become, in some circles, a punch line and/or an example of everything that can go wrong in a big city. Particularly one that is nearly 85 percent Black, although people seldom come right out and say that.
If you live here, you know it is not nearly that bad, as most people discover when they have a reason to visit.

ENTERTORIAL
But make no mistake, Detroit is laden with problems, many of which were created by the people themselves.
Among other things, we have had to deal with a partially corrupt mayor who loved power and the celebrity aspect of being the mayor more than serving the people.
Thank God we have a man of integrity in the mayor's office now. Dave Bing doesn't pull punches. He is dealing with the new realities the way they must be dealt with.
Detroit's glory days are gone and they are not coming back. Something new has to be developed, building on what is good and striving to limit the kinds of things that led to this situation in the first place.
Also, thank the Almighty for the fact that the former Detroit City Council (some labeled it "City Clownsel) was dismantled by the voters. The former council president who is married to a congressman just may have been the worst councilperson in Detroit history, certainly the most embarrassing.
Sadly, Detroit is burdened by a lot of dead weight. People who tear up neighborhoods, badly damage public schools, sell drugs, look the other way when they know a drug house is in operation, break in homes, steal cars, etc., and just generally exhibit bad behavior. Criminal activity is far too pervasive.
And we all pay the price, and that includes a badly tarnished image.
HOWEVER, the city can be better than it has been. There are plenty of decent, caring, hard-working people within city limits. There is a need for them to stand taller.
In the mid-1960s the Marvelettes recorded a song titled "It's Gonna Take a Lot of Doing (To Undo All the Damage)." The song, of course, dealt with affairs of the heart, but the title fits Detroit's situation.
One of the things holding Detroit back is the fact that so many of us have what could almost be called an inferiority complex.
New Yorkers, for example, love New York. (And the Big Apple will never turn majority Black.) Those who live in Atlanta believe their city is fantastic. The people of Chicago have great pride in where they live. Los Angeles residents can't imagine living anyplace else.
A major morale boost is needed. To quote from Patti LaBelle's reservoir of hits, we need a "new attitude."
Now that I have gotten the unpleasant out of the way, I want to expound on some of the plus factors of Detroit. Naturally, my main focus is music. (The O'Jays had people like me in mind when they recorded "I Love Music.")
IN 1984, by which time Detroit's problems were coming to the public's attention on a national scale, the city received a boost in the form of the Motown recording "Hello, Detroit," written by Berry Gordy and Willie Hutch, and sung by Sammy Davis Jr.
The lyrics included, "You're a fighter, you're a lover. You're strong and you recover. From whatever gets you down."
That's true. This city has amazing resiliency. There are times when we are down, but we are not to be counted out.
Of course, it could be said that Gordy owed such a gift to Detroit since he chose to take Motown Record Corporation, one of the best things about Detroit, to the West Coast.
Motown went into slow decline after that because its foundation was here, not there. Just about everything that made Motown was because of the musicians, writers, singers, producers, etc., in Detroit.
Still, we appreciated "Hello, Detroit."
The Motown era was incredible, and what a roster of stars! It is unmatched to this day, including Smokey Robinson & the Miracles, Mary Wells, the Four Tops, Marvin Gaye, the Supremes, Stevie Wonder, Diana Ross, the Marvelettes, Jr. Walker and the All Stars, Martha & the Vandellas, the Temptations, the Contours, Tammi Terrell, Gladys Knight & the Pips, the Velvelettes and so many more.
And what about the Motortown Revues at the Fox Theater! Talk about exciting!
But Motown's music prowess does not, never has and never will just depend on Motown.