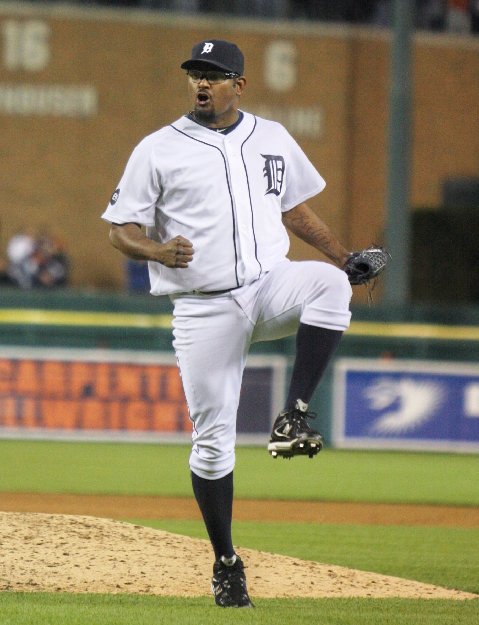 When the Detroit Tigers let closer Fernando Rodney go via free agency, I was very concerned. After all, any team that plans on contending for a pennant has to have a very reliable closer who can step in and hold leads and save hard fought games.
There was no need for me to worry, because the Tigers promptly went out and signed Jose "Papa Grande" Rafael Valverde to be their man at the end of ballgames.
"I did not know anything about Detroit or the organization because I play in the National League," Valverde said. "Once I make contact with the team, I talked to my good friend Rodney and Placido (Polanco) and they said this is a good organization. So far I like everything about the team and the city."
Valverde, 32, who lives in the off-season in Santo Domingo, Dominican Republic, is yet another in the fascinating migration of baseball players to the Major Leagues from that small island country.
In fact, since 1960 according to Baseball-Reference.com, a total of close to 500 players from his country have played for an MLB team.
"I did not start playing the game full time until I was 14 because I had to work," Valverde said. "I started working in the factories when I was 10 and I would play around with friends on off days. My family needed help and that is what you do in my country.
"People play it everywhere, in the street and in dirt fields. So I always had it in my mind that I wanted to give baseball a try. Plus I had uncles Jose and Carlos (Mercedes) and my brother (Jonathan) play in the Big Leagues. From the first time I put my mind to baseball full time I was pretty good at it."
Jose lasted 11years in the Majors, Carlos played at the minor league level and Jonathan in the minors and one season with the Arizona Diamondbacks.
The 6-foot-4, 255 pound Valverde is an imposing figure on the mound with an array of pitches including a mid-90s fastball. Thus far it is easy to see why the eight-year veteran — five years with Arizona, two with Houston — has led the National League in saves twice (2007 and 2008) and was selected to the MLB All-Star team in '07.
He has gotten off to a solid start in his first season as the Tigers closer, producing an outstanding .57 ERA and 10 saves in 11 save chances.
"To be the closer you have to have a tough heart, be strong mentally and not stress," Valverde explained. "At this level everyone has skill, so I am a little nervous when I face the first hitter. But I tell myself to throw strikes and go after the man that's trying to hit the ball through me or out the park.
"Being the closer is tough, because every game the situation you face is different. You never know which game you will be called to pitch. So you have to keep your head in the game and always be ready for any situation."
Some have focused a lot on how animated Valverde is when he pitches. They think he is showing up the other team's batters when he kicks his leg up and drops it like it's hot, does a fist pump and a mini Ali shuffle dance. When a person has traversed the road he has, he deserves to enjoy his life.
"When I first got to Arizona, they tried to get me to shut it down a little," Valverde recalled, "but I would not be me. What I do is my style and the way I get myself into the game. I finally told myself I had to do me and enjoy the competition. I do not do it to disrespect anyone or get anyone pissed off, but this is a game of emotion."
Concurred manger Jim Leyland: "He's good and a great kid. There is absolutely nothing — I can promise you — that is meant to show up anybody."
I personally dig it. Sports are entertainment are very emotional. I hear my media brethren all the time complain when they think an athlete appears to not show emotion during or after a game, like Kareem Abdul-Jabbar. He got toasted for not being demonstrative while Magic Johnson was celebrated for it.
"He's a very animated and fun guy," bullpen mate Phil Coke said. "People may think he's over the top, but when a guy has emotion like that you have to respect it."
Reliefer Eddie Bonine said Valverde is great to have a around because he is always talking baseball and passing on the knowledge about pitching technique.
"He teaches us about how to handle your business when called on," he said. "He is a great resource for us in the pen."
So far Valverde is shakin' 'n' Bakin' 'n' Closing his way into the hearts of Tigers fans.
Leland Stein can be reached at lelstein3@aol.com.