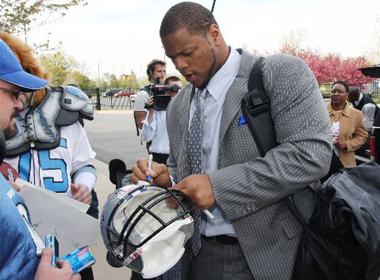 ALLEN PARK – Just like Opening Day for the Detroit Tigers every year, likewise the NFL Draft for the Lions is a time for hopeful thought and dreams of a possible rebirth as a competitive NFL team.
Who can argue that the Detroit Lions franchise needs a rebirth? The woeful 2008 season that produced an incredible 0-16 record was followed with a nearly equally woeful 2009 campaign that finished with 2-14 record.
COMMENTARY
Lions general manager Martin Mayhew and his staff came in last year and implemented a solid if not spectacular 2009 draft, getting three players with measurable potential, quarterback Matthew Stafford, tight end Brandon Pettigrew and safety Louis Delmas.
Consequently, the 2010 NFL Draft would be the litmus test for many in deciding if the Lions are indeed headed in a positive direction. As I pulled into the Lions headquarters in Allen Park, there was a group of Lions fans already clad in Ndamukong Suh's number 90 jersey. Moments later a limo pulled up and out pops Suh and his family. He stops and takes pictures with the fans and autograph items, then heads into the press conference.
The NFL has simply become bigger than life and it knows it, as evidenced by the league extending the draft to a three-day event in New York's Radio City Music Hall. To illustrate that football is really America's favorite pastime, the draft television ratings knocked every other sport — baseball, hockey and basketball — on their collective behinds.
Well, it is the hope of Mayhew and coach Jim Schwartz that their two first round draft picks knock the NFL and the Detroit fans on their collective behinds.
Suh, the Nebraska All-American defensive lineman, taken with the No. 2 overall pick in the 2010 NFL Draft is by all accounts the best player in the draft.
"Every step along the way," Schwartz said in the press conference, "he (Suh) solidified our thought that he was the best player in college football. During some downtime I would flip a game on and I would just be shocked at the way he would dominate a game. We were very fortunate to have a situation where the Rams needed a quarterback at No. 1 and we were able to get him."
Said Suh: "Detroit fans are obviously very attuned to their football and they love it. I'm very happy to be a part of this city and I'm looking forward to getting to know a lot of them and, most importantly, help this team compete for championships."
At 6-foot-4, 307 pounds, what makes Suh special is his balance and footwork, which he honed playing soccer up until the eighth grade.
"I got a little big for soccer," he said, "and I started getting too many red cards. I definitely have grown to love football. It's fun to kind of beat up on those little guys over there (pointing to Jahvid Best)."
After the Suh pick the Lions traded up in the draft to ensure they could get California running back Best with the 30th overall pick in the first round. The 5-foot-10, 200 pound back was regarded as the fastest running back in the draft, scooting through the 40 yard dash in a very fast 4.3.
Many fans questioned the pick because defense is the glaring weakness on this team. Others are concerned that Best could not finish his junior year because of a concussion. But, my feeling on this is you cannot teach speed. It is worth the risk to have a potential back that can blow by defenders.
"We watched the coaching tape," Schwartz said about Best, "saw the matchups, the explosiveness and you see the huge gains that he makes and the way that he affects the game of football. When you put a game on, he was dominating that game, whether it was in the passing game — he has great hands — whether it's as a receiver, whether it's as a running back, running inside, running outside, wild cat, whatever it is, he was the best player on the field and it was against good competition."
With their third round pick the Lions took Iowa cornerback Amari Spievey.
"He's a tough, physical player," Schwartz said, "and he's got good instincts in the pass game."
The Lions draft feels good to me now, but as is always the case, when they suit up the truth will come to light.
Leland Stein can be reached at lelstein3@aol.com.