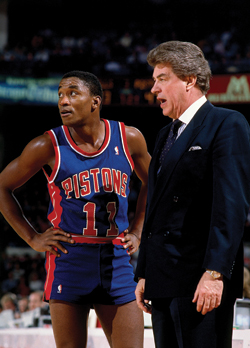 In conjunction with the recently opened "Fabulous 5: Detroit's Beloved Sports Coaches" exhibit at the Detroit Historical Museum, the weekend of April 17-18 will feature the second of four "Salute to Coaches" weekends, which offer organized youth sports teams (ages 17 and under) and their coaches the opportunity to see this exciting exhibit for free.
All team members and coaches have to do is show up at the museum wearing a visible demonstration of their team affiliation (cap, jersey, etc.) and they will receive free admission, courtesy of the Japan Business Society of Detroit Foundation.
"Fabulous 5: Detroit's Beloved Sports Coaches" tells the stories of five people who not only are true luminaries of their respective games, they also earned a place in our hearts. Those featured include: George "Sparky" Anderson, Detroit Tigers; Scotty Bowman, the Detroit Red Wings; the late Chuck Daly, Detroit Pistons; the late Will Robinson, a local basketball coaching legend in the Detroit Public School League who went on to become the first black coach at a NCAA Division I school before finishing his career as a scout for the Detroit Pistons for 28 years; and Dick Vitale, University of Detroit Titans.
The Detroit Historical Museum is located at 5401 Woodward Ave.
For more information, call (313) 833-7979.