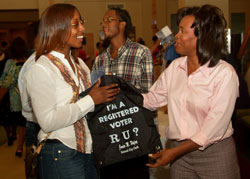 On Monday, U.S. Congressman John Con­yers held a Judiciary Committee briefing, "Solutions to the Indigent Defense Crisis." There, lawyers, judges, members of the defense bar, advocates, and victims of a system that has denied adequate defense to many assembled to try to find a way for "Pookie and Ray-Ray" to stay out of jail.
They are, after all, overrepresented in the judicial system. Approximately one of nine African-American men is in prison, and the figures are not much better for Hispanic men.
Conyers called the briefing to secure testimony to support Michigan State House Bill 5676 to reform public defense in this country, and to seek comparable national legislative proposals. The morning session was moderated by Dennis W. Archer, former Detroit mayor, Michigan Supreme Court Justice and former president of the American Bar Association. In the afternoon, the Judiciary Committee of the Michigan State House of Representatives held a hearing on the same topic.
As I walk the streets of Detroit, spending time in the 36th District Court or the Frank Murphy Hall of Justice, I find numerous attorneys working as house or assigned counsel, rushing through the dockets to try to give a few minutes to persons without the ability to purchase a lawyer. These persons invariably find themselves locked up, absent the intervention of faith, fate, or officers or witnesses who fail to show up. In Michigan, these lawyers make no more than they did in 1967 to provide defense to indigent clients.
The director of the National Innocence Project, Barry Scheck, emphasized that he had spent a lot of time in Michigan fighting to overcome the missteps of the now-infamous Detroit crime lab. Sitting in the front row listening to him was the sister of Eddie Joe Lloyd, who was forced to confess to a murder and rape he didn't commit and spent 17 years of his life in prison. After being cleared with DNA evidence, Lloyd was released in 2002 and died two years later.
There are far too many Eddie Joe Lloyds. They are in court every day. Our country guarantees them the right of effective counsel, and they are not getting it. Now, we in the Detroit Coalition Against Police Brutality are seeing cases where individuals who have been police brutality victims are now being charged with assaulting the very officer who may have assaulted them. These individuals have virtually no resources to mount a legal defense.
At the event, I was compelled to make a statement to support House Bill 5676 and the Michigan Campaign for Justice in their efforts to provide adequate legal defense at every level of the system for those who cannot afford it. I felt it necessary to speak for the voiceless and faceless individuals not at the conference who find themselves pushed onto a bloated court docket like ants in an anthill.
Where are the law enforcement officials? I asked, who with compliant prosecutors bring cases to the courts much better handled in a non-judicial mediation where restorative justice should instead be the goal. I also emphasized that there are large amounts of money given to law enforcement agencies for multi-jurisdictional task forces to combat "drugs, guns and gangs." "Some officers," I said, "will create 'drugs, guns and gangs' where they don't exist, so that the money can continue to flow."
I like what Congressman Conyers said — that justice must not be predicated on economic circumstances and that government has the opportunity to provide justice for anyone at any time, regardless of their economic condition.It was mentioned at the conference that the bulk of grant money from the Justice Department goes to law enforcement agencies, and less than 1 percent of those dollars goes towards prevention and defense. That is a travesty.
I couldn't help leaving the meeting feeling that the next round of discussions should be held somewhere near Mack and Bewick, or Wyoming and Grand River, where the people who are confronted with the prospect of going to prison can testify on their own behalf for their own freedom.
We have to do better.
Ron Scott serves as spokesperson for the Detroit Coalition Against Police Brutality. The Coalition's radio show, "Fighting for Justice," can be heard Sundays at 10 a.m. on WDTW 1310 a.m.