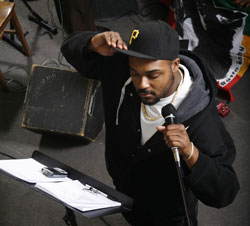 At a field to be determined, Cass Tech will contest PSL rival Southeastern in a Division 1 District Final this weekend.
Southeastern (9-1) got there by smacking Westland John Glenn 41-0 in a district semifinal Saturday at Detroit Renaissance. The Jungaleers looked primed and ready to make a serious run at a state title as their defense locked down Glenn's running back Jeremy Langford, who came into the contest with 1,899 yards.
"I continue to say our defense is one of the best I've ever had," said Southeastern coach Donshell English. "My defensive coordinator, Archie Collins, does a fantastic job of getting the kids in the right position to make plays. I love this defense. We have a lot of kids on this defense that are going to go to schools the next two years. I think this team is ready, but we will have to wait and see how it responds to adversity. There are going to be some challenges out there and we have to stay within ourselves and play our game."
Southeastern did not get to defend its PSL title last week because if a technicality, so they refocused themselves and used the exclusion as motivation.
"It (PSL) ended up being good for us," linebacker William Gholston said. "We got to play a team (Birmingham Brother Rice) that is recognized as having one of the best programs in the state and we beat them. It was a good measuring stick to see where we are as far as trying to win a state title."
Added running back Paris Powell: "All the work we put in is paying off. Not playing in the PSL has made us even hungrier."
Said lineman Johnathon Hankins: "When we play together our defense is tough. I think the sky is the limit for this team. We want to prove a point to everyone that we are a very good team."
Having something to say about that is Cass Tech, who appear to be playing its best football of the season. The 24-23 come- from-behind win over Dearborn Fordson was the upset of the weekend.
Cass was down 23-6 at halftime. With four minutes to go, Dior Mathis capped a furious comeback with an 80-yard touchdown reception.
"I think the kids feel confident with the momentum," Cass coach Thomas Wilcher said, "and we have become a bit more successful. They are starting to believe in what the coaches are trying to get them to do more and more."
Cass (6-3) lost to Southeastern 35-0 earlier in the season and they lost to them in last year's PSL championships. The Technicians will have to play a near perfect game to upset the Jungaleers.